---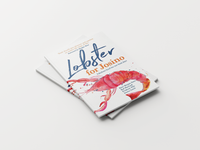 Dazzling doses of flavour combined with appetising injections of creativity, delivered in just the right way to enjoy for days or decades!
Lobster for Josino: Fabulous food for our final days brings the joy of food to many who might otherwise miss out through practical but expert advice and clever, restaurant-quality recipes.
Inspired by a much-loved Sydney chef's final meal request and belief that the sharing of beautiful food is an essential part of life - however much longer that might be - Lobster for Josino introduces dozens of amazing new taste ideas for everyone to enjoy.
Chef and author Peter Morgan-Jones (Don't give me eggs that bounce, It's all about the food and not the fork!) joined with well-known palliative care specialist Professor Rod MacLeod (The Palliative Care Hand Book) to create this world first cookbook that provides advice and tips about food at the end of life as well as more than 100 innovative recipes.
Further expertise was added by speech pathologist Prudence Ellis - also an author of the two previous cookbooks - and dietitian Jessica Lynch which ensures Lobster for Josino is full of beautiful food and drink, that is also safe and appropriate for various stages including those who enjoy a normal diet, those on modified diets and even those who are at a stage of eating very little or are 'nil by mouth'.
To do this Peter draws on all his restaurant experience to ensure favourite foods and flavours can be presented in a variety of ways such as Vodka and tonic ice blocks, Scotch mouth swabs, Christmas pudding mist and many tasty meals, drinks and modified foods.
The chapters at the start of the book provide carefully researched clinical advice in an easy to read style that address many of the issues that someone facing a life-limited illness or the end of life may experience. A key message is that food is not just about sustenance, but about love and nurture and personal choice.
Food is one of the last areas of choice for a person at the end of life, and although tastes, appetite and capacity may change, there is incredible opportunity to enjoy the comfort and pleasure of favourite foods and drinks using the ideas and recipes in Lobster for Josino.
Lobster for Josino was judged Best Cookbook of the Year for Australia, and best Seniors Cookbook for Australia in the 2019 Gourmand World Cookbook Awards.
Product details
 Published May 2018 - reprint 2021.
Authors: Peter Morgan-Jones, Rod MacLeod, Prudence Ellis, Jessica Lynch
Softcover: 232 pages, full colour
Publisher: HammondCare, Sydney Australia
Language: English
Product Dimensions: 246 x 191 x 18 mm